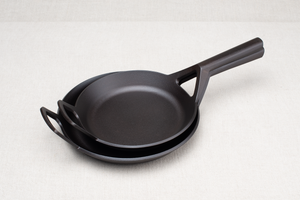 Made to order. Current lead time is 6-8 weeks.  Please read before placing an order.
Both of our frying skillets offered together at a $40 discount.
A modern classic in cast iron, our frying skillets have a long, forked handle to dissipate heat and balance their weight, and a thicker cook surface to heat evenly without warping. Made by hand from 100% recycled iron, each skillet is cast, sanded smooth and seasoned by John + Liz in our Owego, NY workshop. 
Made for high performance cooking.

 

Thicker cast iron heats evenly and stays hot for a perfect sear. Induction ready and oven safe to 800°F. Great for open-fire cooking.


Finished with purpose.

 

Hand sanded smooth on all surfaces, our cast iron is a pleasure to cook with and to handle. We apply a light micro-texture to the surface after finishing for optimal oil adhesion. It is robust seasoning, not a machined smooth surface finish, that makes cast iron nonstick!


Seasoned to perfection.

 

Pre-seasoned three times with organic flax seed oil (Kosher certified), our skillets are primed for use right out of the box. The deep color of our factory seasoning is evidence of a cook surface that will hold seasoning easily - and it only gets better the more you use it.


Built to last.

 

No glued-on or screwed-on parts. No synthetic coatings to wear away or leach into your food - just iron and oil. Guaranteed not to warp.


Designed for movement. The long forked handle dissipates heat for barehanded stovetop cooking. An oversized, raised helper handle makes it easy to transfer from stovetop to oven. 

Each skillet will have slight variations in appearance due to its hand finishing.  
Dimensions:

10.5" Frying skillet
10.5" lip to lip
8.5" flat cook surface
19" length
Weight: 6 lbs

9" Frying skillet
9" lip to lip
7" flat cook surface
17.5" length
Weight: 5 lbs
Payment taken at the time of order.
Bundles cannot be combined with additional discounts.